Tuesday, October 15, 2013
A Weekend Tuesday
Finally, a public holiday so I can have an excuse to take a good break.
That is, not to reply any emails or to attend to any of the Purchasers. It has been rather hectic and worse than before.
Come and think about it, am really unsure if this is the kind of job for me. I cannot deny that despite it is one tough job, somehow, I find some satisfaction in it.
However, this job is not doing any good to me. My mental health is seriously not in a good state. I seem to be losing myself more and more each day.
Till I find some time to sort out my thoughts.
0 Comments

vonkoh|10:54 PM|


+ + + + + + + +
Sunday, January 06, 2013
Thoughts unspoken
All along, I thought thoughts unspoken, would die unborn. Many times, these thoughts had unknowingly taken its roots somewhere.

Haven't blog for a long time. Now, where should I start?

Fade off from the partying scenes has led to another phase I never thought I would be. More, down to earth. Not very, but, down to earth.

All my time has been utterly committed to work. I used to tell my close friends, what's the point of working so hard. It's fun that matters. Now, fun is too far for me to reach. I'm doing work related still even though I'm slacking to blog this post.

Recently, my father has been diagnosed with diabetes. Of course, we have been praying hard for him. On another hand, idiotic me is doubting my own prayers because I'm just not living the way a Christian should be. Anyway, I know Daddy God will still take care of my father, my family and of course, his beloved daughter! (; I will let God do the rest.

So now, back to work. This job is tough and taxing. Never expected myself to work past a year. Now, I'm 21-month-old in here. Struggling with the restructuring and changes is like, disappointing. Don't know how to describe, just, unhappy.

Temper? Same. Snap at almost every single shit. But of course, getting better. Hope my mental health improves! Keeping fingers crossed.

Oh well, facial tomorrow morning! Gotta rest. Update more again! Loves! (:
0 Comments

vonkoh|12:24 AM|


+ + + + + + + +
Wednesday, October 31, 2012
My Love's Finally Starting Work
Kai Wei finally got his position secured in my company at the other department.

Tough job. But hope he make it and climb! (;

Love the morning train rides. <3
0 Comments

vonkoh|9:13 PM|


+ + + + + + + +
Monday, May 28, 2012
Bring It Back
Oh well, somehow I'm missing blogspot and decided to switch back! Okay, I'm fickle minded.

Anyway, I shall start to blog as often as I used to. (;
0 Comments

vonkoh|4:49 PM|


+ + + + + + + +
Saturday, October 01, 2011
They Meant Love
Was testing out the blogger app but Wordpress blogs better for the photo features.

Dear blogspot, please improve yourself. I like you better.

0 Comments

vonkoh|1:16 AM|


+ + + + + + + +
Friday, September 30, 2011
Goodbye Blogspot!
Have been using Blogspot for many many years. After much thoughts and technology have advanced so much, no choice, I have officially switched over to http://vonkoh.wordpress.com .

Thank you blogspot. You have been serving well. <3
0 Comments

vonkoh|2:18 PM|


+ + + + + + + +
Thursday, September 29, 2011
If, Given A Choice
Seriously, I wish I could just spend more time with Kikki, Bobo, my parents and my love. Nevertheless that the job is rather tiring and everyday, I only get to spend that few hours with him. It makes me feel that I should cherish more of that short time with him.

But short time, how to make it qaulity?

I hate it when Ginny ask if we should put Kikki to sleep. Because now she is on long term medication, and I can understand where is she coming from when it is really taxing on her end. I wish I could do something. I wish I could have that extra cash to help out, I wish I have a house of my own to house the dogs now too and be with my parents. Have everything the same as before. But how? God, if there's miracle? If it ever exist, or at least in my life? And if myself or we even make the choice of putting her to sleep, will they hate me or is this really what we want?

Talking about jobs, everybody is always looking for a job that pays well of course. I know I'm in the right company. But I'm always tired, more tired than the days I was in Walton. So what if I'm earning more than 3k per month, it's not enough. NOT ENOUGH AT ALL!

I appreciate for the fact that my life had to turn this way in order for me to learn that money is so fucking important. And probably this is what Ginny always want to teach me and I never learnt because I took everything for granted. To stretch that every single dollar.
0 Comments

vonkoh|9:43 PM|


+ + + + + + + +
Thursday, September 15, 2011
I Need A Life
Been really busy at work every day and I feel darn upset for not being able to blog at all.

It simply mean I have no time for no other stuff.

So, I need some activities. Now what? ):
0 Comments

vonkoh|9:53 PM|


+ + + + + + + +
Saturday, August 06, 2011
Workaholic, NOT!
I am finally able to be up, sitting right in front of my laptop on a Saturday. It's been such a long time since the last time I could do that.
Seriously, I'm beginning to hate this iPhone and iPad gadgets. They are taking my life away. Now, so much for all these biggies trying to facilitate all those convenient 'features' to our phones. I'm always on my phone, working almost round the clock. And somehow, its so annoying that I hate the sound of my ringtone. And looking at the name of the caller definitely made it worse.
But last night, thank God it was on silent mode. My phone calls start coming in as early as 8 am. Nevertheless, I managed to sleep till noon.
I thought of looking for other job opportunities, because I don't like the idea of being kept away from my life. I need to see some 'light' on the other end, as in, prospects. I don't want to stay at where I am for the whole life. Someone mentioned to me before that this company that I am working for works a bit like the government, there is something like a yearly increment thing going on. Yes, all and all that I can go on talking about how attractive working for them is. But in time to come, where is it going to lead me to?
Okay, I know I've been complaining my job. Everybody works hard for something, and other than working for a home, for my parents and boyfriend. I seriously have no idea where this job is taking me to. No, not a team leader role. Customer service team leader role? All right, feel free to tell me what's in your mind.
I love my job somehow, as it's different. I play with dogs and kids if I see them around the development. A little bonding time that kind. Get to know different people. But I can't forget about that 'but'.
Kai Wei say I'm a workaholic. I am still working to get out of this fucking rat race.
Some people worked hard and bought their first condominium at my age now. So, what are we doing? All right, on the other hand, some might argue that we are going to slave to our money. Honestly, who isn't?
0 Comments

vonkoh|12:38 PM|


+ + + + + + + +
Tuesday, August 02, 2011
Dream Job, Or Just Earning A Living
I miss blogging, I may not know who are my readers. But I know, I'm not alone.

One of the homeowners of The Greenwood, brought me out for lunch today and we chat. (Of course, it will be a 'guilty' meal because of the defects in her house.) At the same time, we talked about jobs and all. She always say my job 'doesn't pay'.

So, what exactly is Customer Service about? Am I really a customer-oriented person? Or is it because I am just heading towards the directions of the wind?

Melissa asked why am I here, my reason was just to earn a living. But I asked what does she look in a job. Her reply was job satisfaction, and on par with salary. True, an individual must have of certain value to the company in order to be that they are value-adding the company.

My situation now, I need a job with a good salary that pays me well in order to sustain. Still, its not enough. YY (from my previous company) once told me, we are still low income earners. Not anywhere near middle income, which I find it really true. My rental is already like 1/4 of my gross salary, how am I going to survive?

So this homeowner lady told me, you have to enjoy what you are doing; have to find joy even in bitterness. I understand that, that's why I am still staying with the job. I love my colleagues too. But why do I feel that all of us, are suffering in silence? She asked if I am interested in being her Personal Assistant. I was more interested with being a Crude Oil Trader. (Okay, I didn't dare to ask. Feel that its not time at all.)

Honestly, I don't think I have anymore time for me to wait and choose the career path or even switch it. Unless I am doing sales. My state of evolving, is still not at expectation.

Why so? Because of prospects.
0 Comments

vonkoh|8:53 PM|


+ + + + + + + +
Monday, August 01, 2011
How is Marriage Like?
No, I'm not dying to get married. Just curious.

My team leader for current company, was sharing with Melissa and myself about his 'unsuccessful' marriage. Usually, people will use the word 'failed' marriage. However, how should that word be used? Only betrayals in the picture, yes?

My team leader's character is someone, whom you will never think of who will ever end up in a divorce. And, why did he and his wife even split two months after their marriage, he said they just stopped communicating; which I find it rather sad.

It's like they have worked so hard and came so far, yet all they decided to do was to give one another up after so many years in the relationship.

So what determines a good partner? Qualities vs. quantity, what's your take?

It makes me think rather much about Kai Wei and myself. Our relationship is still 'young'. And, his responsibility is already there for me right from the very beginning he decided to come after me. Will he, be like my team leader, be tired one day as well?

They said love is blind. But love was not blind, just that many tend to follow their heart. What's love if you had used very much of your brain?

Kai Wei and myself are moving kind of fast-forward (no, not fast-forward about baby-making). That, in just a couple of years time, his responsibility will not be just the both of us. It's building a nest for the both of us, as well as for my parents.

Is marriage supposed to be an excitement? Or is it the sparkles that we constantly have to create for one another to keep running?

Our relationship now does not seem like we are dating. I do feel as though we are like some married old couple. Leading life and providing for one another. Did I miss out on blogging our sparkles?

All right, back to my team leader. To us, it's a pity. To him, he does not even feel anything or even near how he felt before. This is the scary part about human beings; when we are head over heels, we love madly like how little puppies wiggle their tails and follow who they love all the time. When the feelings gone, everything is irreversible. No matter how much effort you think you have wasted.

Anyway, four more days to our special day. (: Finally get to blog using my laptop, and now, time to sleep. Goodnight all. <3
0 Comments

vonkoh|11:21 PM|


+ + + + + + + +
Sunday, May 22, 2011
If There's Past Life;
I must have done much wrong to others.

If this life for payback, so be it.
0 Comments

vonkoh|1:57 PM|


+ + + + + + + +
Thursday, May 19, 2011
Every Single Thing
Oh my, my last entry was on 1st April 2011? It's already May 2011 now.

Brought my laptop to work and am at Greenwood now. By the way, just in case you guys don't know. Greenwood is actually a development of clustered houses that's located at Greenwood Avenue (located near National Junior College, Bukit Timah area). In other words, it's uber near Ngee Ann Polytechnic as well. But that's like many bus stops away of course.

Felt as though my life have mellowed down a whole lot. It's like, I'm spending more time with my family now. Yes, mummy is still as annoying and ginny never fail to make me life 10 times worse than any other day.

All the changes seem to be taking over the whole of me, which I could hardly allow my brain to catch a breath.

I am wondering if I am changing. Yet there ain't proper roots that I have taken ground with.

Every day cab cab cab. Knn a bit waste money. /: Have transport allowance also not enough.
0 Comments

vonkoh|11:46 AM|


+ + + + + + + +
Friday, April 01, 2011
Life is;
A joke.

This one week been hibernating my brain and whatsoever, I just was not myself.

I wonder if whatever I am going through now, is God's way of 'polishing' me the person He wants me to be. It's difficult.

From having all that I want, to all that I have to fight for now.

And ironically, having a home now, is something that I have to fight for now.

I thought family should have been your pillar, fate playing me out or what, my family members are all over the place and care only about themselves.

I know how much my family loves me. But I can't help feeling disappointed with how things turned out.

I ever doubted Kai Wei's love for me. But it's my choice after all to be this guy whom I'm with today. I don't know how my future going to be like.

Stay at so called 'new' place now, it's prolly the most horrid place I ever stayed. I wish Kai Wei is by my side now. But there is this National Service he has to serve! ):

Since last July till now, each day I am going through is something that I could not even explain now.

Starting work tomorrow, gotta sleep and fight for my future.

Till my mind are clearer.

God, take me, mould me, use me. I wish I am on your path now.
0 Comments

vonkoh|12:58 AM|


+ + + + + + + +
Wednesday, March 30, 2011
Blessed, And A Little Dopiness
All right, just the recent Saturday, 26th Mar I think. We finally have time for our Voile and held our flea market at Woodlands Waterfront.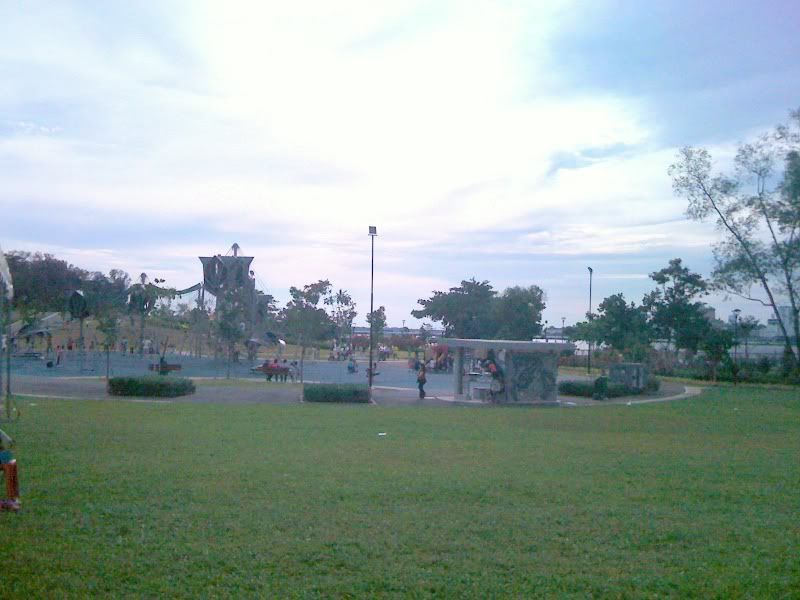 For those who doesn't know where is that, this is roughly how it looks like. People go there for fishing and kite flying too. Huge playground there of course.
Preparing the set up.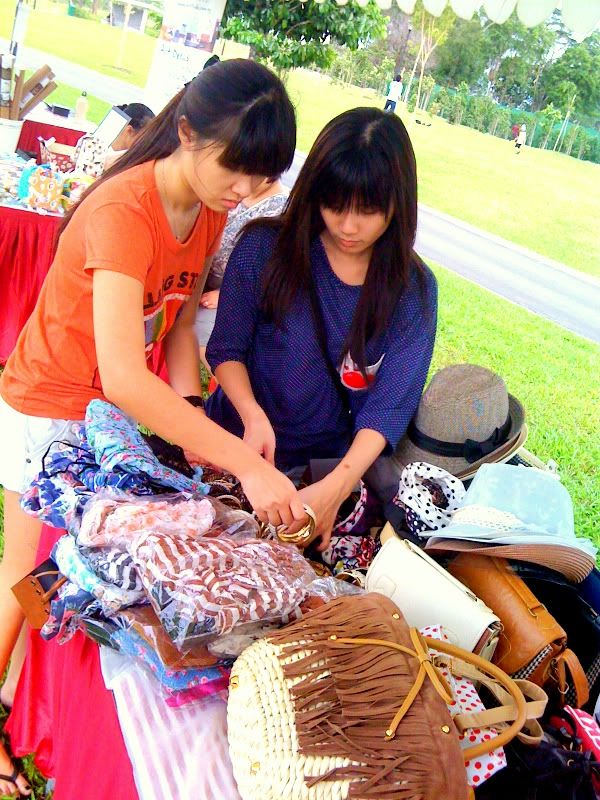 They busy removing original price tags. HAHS!
BUT! THE RESPONSE WAS PATHETIC. KNN. /: NO CROWD AT ALL LOR! EMO.
It's okay, we will be holding flea again 'HELP NIPPON CHARITY PROJECT " FLEA!' this Sunday, 3rd April, from 1pm to 8pm at Myra Beach Club, East Coast Park (1390 East Coast Parkway S468961). Do come and catch us and Voile Collections there. (: Help us spread the words please!
So yesterday, I went to sign my contract. Initially, I was pretty upset taking a pay cut of $200 on my basic salary despite the fact I was given transport allowance of $300.
The day before met up with Jiayi, Teresa and Eugene. And they suggested I ask more questions before I sign my contract. And after asking those questions and find out more, I was pretty impressed with the company.
My benefits (after confirmation):
- Handphone bill claim up to $120
- Start off with 16 days annual leave (if planning to stay for 5 years and above, 21 days)
- Block Annual Leave Policy (They make you take leave if you didn't take finish the year before)
- Birthday Leave (First time I hear this la!)
- Special Allowances (Rates for Saturdays to Sundays/Public Holidays, additional wages range from $50 - $150 per day)
- Meal allowance, $7 though.
- Healthy Lifestyle Benefit (Start from day 1 of Jan till end 31 Dec, no medical/hospitalization leave, unpaid leave or maternity leave, they give cash of $1,000)
- Special discounts for Far East Hotels/Serviced Apartments
- Alphabet School ABCD (This is, they give you a sum of money to travel to their selected list of recommended global cities and come back, submit a report about that country to share on your learning experience,.)
- Foreign Language Sponsorship (in full) plus you learn the language, they give you Foreign Language Proficiency Allowance for 12 months per level, from $30 - $250 per month as you level up.
My face changed when the guy continued.
Interviewer who was on leave the other time: "Why your face like that?"
Me: "Impressed. What birthday leave sia???"
Unfortunately, I will be working with a bunch of ex-crews from SQ and JAL, how fun huh? I wanted to get into SQ so badly, couldn't get in nevermind. But people around me are all from SQ, what the fuck?! /:
All right, that's about it. First day of work on April's Fool! (:
Oh, and I was only told I will get a uniform from them la, in time to come when they implement the new uniform. Okay, I was like what the fuck too but I got no choice. Standard working black and white attire kind of uniform lor. Never expect myself to be in 'uniform' again. /:
And also we have to declare if we receive gifts, he say we can keep the gifts but must declare to protect ourselves from being accused of bribery. Till now, I'm still question marked.
0 Comments

vonkoh|1:39 PM|


+ + + + + + + +
Wednesday, March 23, 2011
Life is Bullshit
Despite of the shit, I feel like a better person now.

I admit I have been rather upset with whatever that has been happening since last July. But the amount of things I learnt, surpassed all that.

Give me time. That's all I need.
0 Comments

vonkoh|11:46 AM|


+ + + + + + + +
Sunday, March 20, 2011
I Wish I'm Tougher Than This;
but it seems like I need a crying shoulder almost all the time these days.

And I hate it.
0 Comments

vonkoh|11:24 PM|


+ + + + + + + +
Thursday, March 17, 2011
No One Stops Me!
I know, people will start the 'are you sure you are ready to get inked?' but take it that I'm insane. By year end I just want the pricks. Till I settle job and accomodation at least, stable a bit.

I'm gonna have two.
A statement and a safety pin!
0 Comments

vonkoh|7:39 PM|


+ + + + + + + +
Sunday, March 13, 2011
Entry On My Overdues
And so, only until today then I realised I have photos in my Omnia that I haven't upload to my computer. So here they are.

I shall start off with, somewhere in last December. I believe it was taken before Christmas and Kai Wei was not around with me just because he has to stay in. ): Jiayi, knows that I am alone at home, called me out for Doraemon Movie with little Jing Yee. (:

It's darn difficult to get the little girl to even take pictures lor. Don't know if she was really camera-shy or what.



We had a tough time trying to get Jing Yee take photo for us! /: The night end off early because Jiayi has work the next day.
By the way, ever seen a mini iPhone? My sister bought one from Hong Kong previously and recently I just found it in one of the boxes.
Remember Esther got married last December too? The girls and I met up at Liat Tower Starbucks to plan the 'Gate-Crashing' games and also, to discuss that 'day's' itinerary.
We always get a lot of attention for 'over laughing out loud'. /:
Oh, have you people ever tried those instant packages from Muji? Surprisingly, it's really not bad. They even have a variety of pasta sauce for you to choose from as well. And the following, is the soup I tried. Not say really really fantastic, but great saviours when you are hungry at those odd hour when you are supposed to be sleeping. (:
But is not a lot, unlike Campbell all that. Theirs prolly just half of what you have from the Campbell can.
All thanks to all those 'out of the blue' arguments. I don't always get to see my dogs. I miss my Kikki and Bobo. ))):
0 Comments

vonkoh|2:52 PM|


+ + + + + + + +
Saturday, March 12, 2011
Hopelessly Stupid Spammers
I know this is going to be a random post. But it's just so annoying that all these years, all our mailboxes are being spammed by all those nonsense. And I am pretty 'impressed' by this one.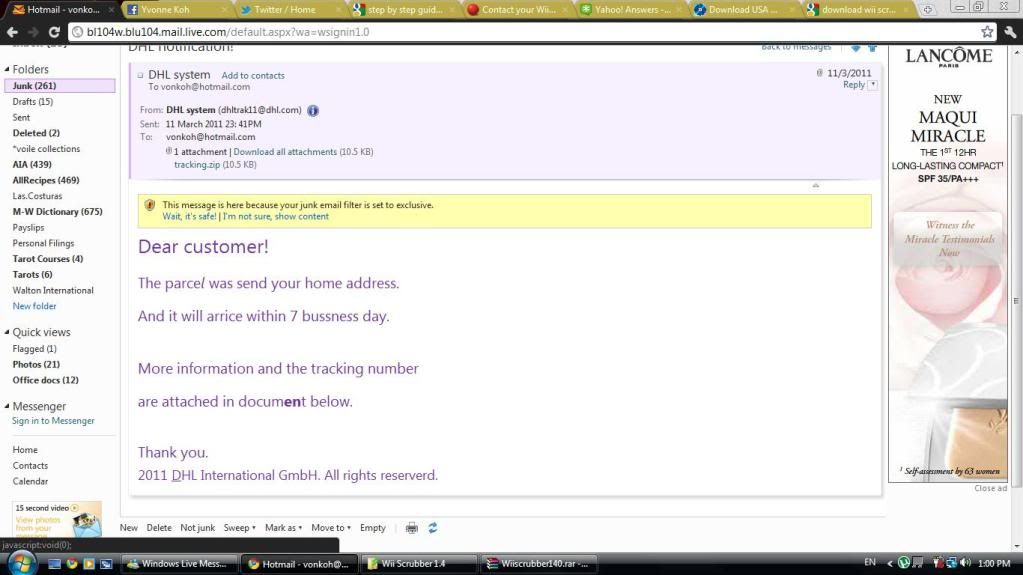 Oh yes. So I have a parcel that will 'arrice' within 7 'bussness' days?
THESE SPAMMERS SHOULD SO LEARN HOW TO S-P-E-L-L. (As if I will get conned to open those attachments?!)

And if you were to Wiki 'Email spammers', or click here; they actually collect our email addresses from the web and spamvertised whatever they have to offer. Wah, if they manually collected all our email addresses?! Then kudos to the time and effort man. Wikipedia like darn good, they have all the answers! It's as though it's a big project researched on every article and statistics all given.

Previously my email got 'hacked' too (I don't know how and why) and it began to send out email with unknown malicious URL to all my friends. Can you imagine I have been spamming emails to all my friends unknowingly?

Solution to that?
CHANGE YOUR PASSWORD!

0 Comments

vonkoh|1:22 PM|



+ + + + + + + +

Wednesday, March 09, 2011

What are words?

You people should just watch this video.
It's awfully touching and the song is beautifully written.

It's about Chris Medina's financee who got into an accident before their marriage, but he had already proposed to her. Yet he stood by to take care of her still.



I love the part where it was,
"What kind of guy would I be, if I was to leave when you needed me the most."

I teared after I watched this numerous times by hitting the 'play' button over and over again.

0 Comments

vonkoh|12:52 AM|



+ + + + + + + +

Wednesday, March 02, 2011

Would you hold it against me?

If I really idolize, I guess that would be Britney Spears.

Her life seemingly must have sucked to the world, but she's always up and back for more again. Shouldn't you people be impressed?



if i said my heart was beating loud
if we could escape the crowd somehow

0 Comments

vonkoh|2:46 PM|



+ + + + + + + +

Tuesday, March 01, 2011

What have you found?

From what I can remember, I never used to enjoy being with my family. Rather, each time after Reunion Dinner during the Lunar New Year, I would hit the club. And everyone else has their own programme too.

Somehow, after Ginny sold the house. I miss being with them, even the times we had arguments.

And only after being 'homeless', I realised that's when everyone else start to make time for one another. How irony.

The following photos were taken during this Lunar New Year, we had steamboat somewhere at Tiong Bahru.


And lesser 'frictions', somehow.
My love and I.
Geoduck, I like.
Hope this family photo is already complete.
That's my love's porn star, baby makiyo. -.-
And I guess this was taken when he was still in BMT, charcoaled. He look like one young boy can. /:
Joyce and Eugene made me feel as though I'm a paparazzi! /:
If life was just all about mahjong.






I wish I could go back to 6 years old or before.
The time that I didn't have to worry about a single thing.
The time, that I didn't have to bother if I had remembered things or not.
The time, that I didn't have to take up responsibility for myself or anyone else.

0 Comments

vonkoh|10:38 PM|



Enough, Not?

At times I wonder, what goes through the mind of many people.

Life is supposed to be aspired with inspirations.

What happened to mine?

0 Comments

vonkoh|9:16 PM|



+ + + + + + + +

Monday, February 28, 2011

The 'What Ifs' Topics

There is this weird thing among the ladies, they enjoy thinking very much; and, love asking 'hypotheses' questions and list out all the possible variables.

And just earlier, I asked Kai Wei, if he have children, what would he name them. Obviously, he said that don't know and what about me.

I proudly announced my kids future names; my son would be named Tequila and my daughter, would be Bailey.

Kai Wei immediately got choked and rejected those names, he say the kids will be a laughing stock in future!

But not bad right?

Imagine my soon trying to hit up this girl in the club.
Imaginary Son: "Hi, My name is Tequila."
Babe: "What kind of tequila are you?" (Flirtatiously)

Wah. I think my son so gonna thank me lor.

And Bailey sound darn bimbo la. If those guys thought my future daughter is some bimbo and trying to hit her up?

I think these names are great.
My future kids are so going to be topic lor. Hahs.

0 Comments

vonkoh|1:07 AM|



+ + + + + + + +

Thursday, February 24, 2011

Ready or Not?

I know this is kind of random.
But I was just thinking to myself, the kind of relationships I had, the one I want and of course, the one I have now.

When you were young, everything was fresh and the kind of emotions you been through were once raving hot or hellish tormenting.
There was this period of time, that I totally gave 'relationship' up. Like no point getting into a relationship when eventually, you are going to get out of it.

Despite Kai Wei being younger than I am, somehow, he held on to our relationship stronger than I did. And at times, I do feel awkward about it. As in, why does he still have as much 'faith' in relationship or in love?

Now that we have been together for couple of months and long way to go in future, I come to realized that I have mellowed down a little. And begin to worry about what lies ahead. Because it's no longer just me alone.

It's with Kai Wei, as well as my parents.

A year later or so, he has to give up his Taiwan citizenship and officially be a Singapore Citizen.

That's when we have to worry, about his parents who are still staying at Taiwan and his sister who is still schooling in Singapore.

Back to where I started, my point is; as time passed, after knocking your head for umpteen times, finally your selection won't be as ridiculous as last time.

Remember when you were young, you prolly wanted someone who fits that long list of criteria you have set? (And that might include non-smoker?! Now, you might be a smoker yourself too!)
And then, you find someone who sweeps off your feet and that tingling feeling last for as long it did and you give up when you know this person shouldn't be worth wasting anymore time.

There are many kind of people out there, (1)continue to have faith in love and fall in love again and again for as many times they possibly could, (2)give up in love/relationship and have fun in life till they find some meaning again (more like myself), and (3)the ones who can never ever commit (due to over-heartbroken previously or, they never want to love at all) and when you try to make them marry you, they think you are trying to con them into one and then, they vanish.

Now, the kind of relationship I seek is rather simple now.

Someone diligent, someone who have me in his plan in future, someone who wants me to have a life he wants me to have.

I don't mind suffering now. At times I might crush, but I know one fine day, I will look back and say 'Hey, it's just another obstacle and I'm just facing something else of higher level now.' As long as in future, it's a better living. (:

0 Comments

vonkoh|5:20 PM|



+ + + + + + + +

Saturday, February 12, 2011

For My Strings Attached

Sadly, Valentine's Day falls on a weekday and my love has to be in camp of course. ):

Just a simple night with him for a few hours because after that, he has to return camp for guard duty! I know it's darn sian. But just too bad for us. I just have to be lonely on this Saturday.

Anyway, he was supposed to cook for me last night but I decided, maybe I will cook something else for him. Haven't cooked for a really long time and with my injured hand, I need his assistance. (:

It was already 10 pm by the time we started cooking, and we have to catch the No Strings Attached movie at 12.20 am. Pretty rush but, we made it in time though.


Here are some preparations. All right, I know. There are no greens. Maybe I should learn to cook some greens for him. (:

And because of my injured hand, I will need his help! To help me cut the meat, marinate them; er, and the washings! (I know he will not wash everything because after we are done, he will definitely dump everything in the basin and wait for the maid to wash. /: )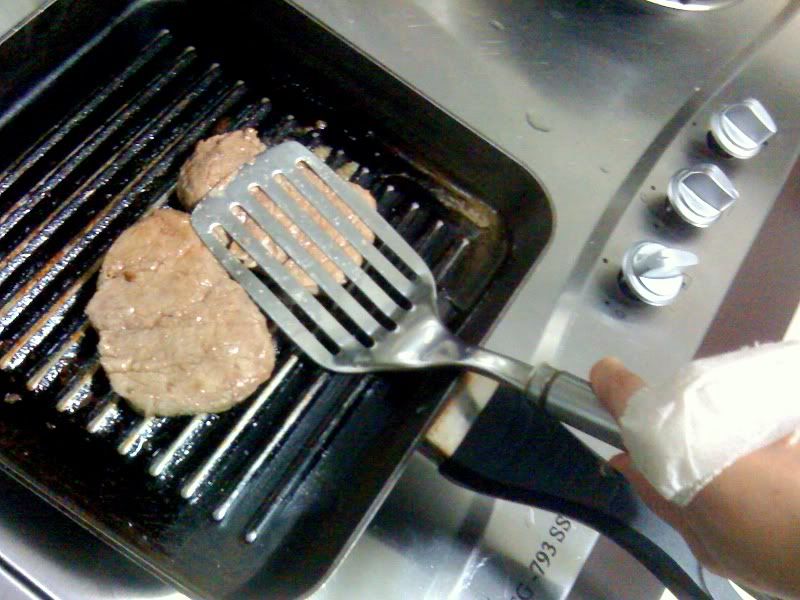 And so I do the cooking! (: Simple tasks for the mild handicapped. Grilling of beef steaks.
And so we are done within, tah-dahhhh, twenty minutes! For a single dish plus his breakfast for the next morning. (;
He insisted a pose with the final product. But actually, he helped to cook too. Hahs. ((;
Here's another meal for my love! <3
My xiao nan ren eat like a big boy.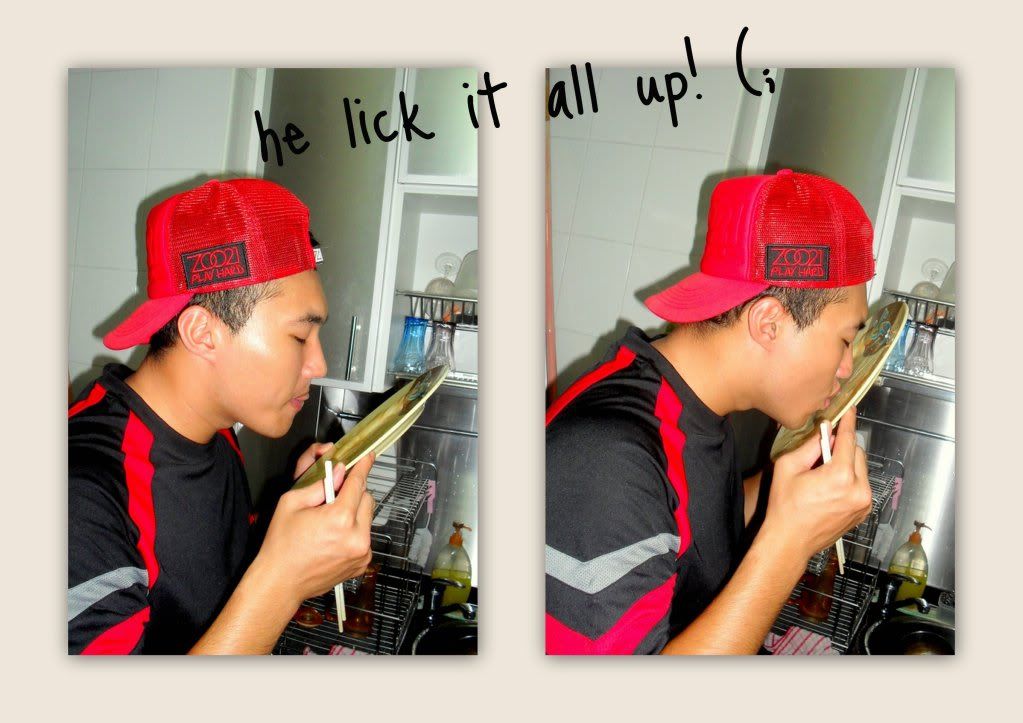 And he finished every single bit! (I had my share of it too la!) Though my flu is recovering, but seriously, I can't really taste much.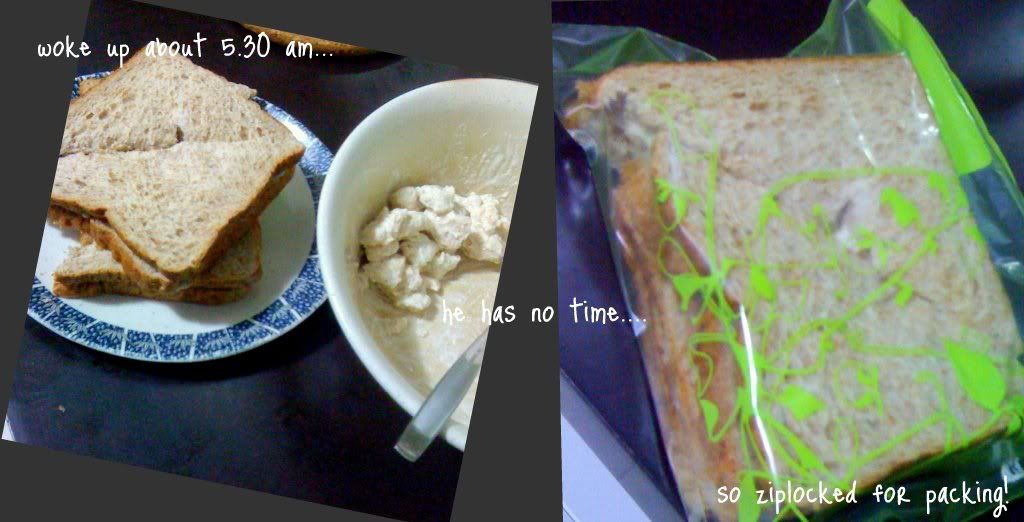 By the time we finished movie, got home and wash up, was already 3 am odd. He was rushing already, so had to pack for him! That's my favourite chicken mayo! (; Okay, I will try to remember the greens in future.
Happy Valentines Day My Love! <3
All right, that's all for now. I have to get prepared to go mummy's place because there's a house-visiting to this couple who were their old time friends (my parents helped to couple to get together and ever since then, they remembered my parents, how sweet huh.)
0 Comments

vonkoh|5:30 PM|


+ + + + + + + +
Thursday, February 10, 2011
Daily Reminder
Oh man.
I just got an Tumblr account set up yesterday and I am so confused which one to be used as my main personal blog.

And of course, I guess I'm gonna stick with blogspot. It's been too lonnnnnnng. All my entries are here.

The others shall be for my leisure and networking purposes. (: Still unsure of what should I share on my Tumblr, here's the account anyway, http://vonkoh.tumblr.com, that will prolly be where my most random posts be kept. Don't know how to link it up to this personal blog though.

Haven't been able to find time to blog properly and I seem to have lost touch with where I left off. (Though my few posts previously were all a tad too emo.)

Guess this gonna be a long post too! (:

Not forgetting my daily reminder? I need to go down 8kg by the time my love finish his army!
I SWEAR I HAVE TO LOR!
(Felt kind of guilty of slacking for the past 4 days lying on bed due to my hand injury! Eat, sleep, play computer, eat, sleep, play computer... ....cycle goes on!)


Check out my bandaged hand! The reason why I am getting five days of MC this week!
Photos from last Christmas with my love at Sentosa. <3
My love became really tan huh. I want to be that tan tooooooo! ):
He lost much weight huh? /:
We went out really late and had no choice but to take-away MacDonalds, from Chinatown.
(Don't ask me why we went all the way there for Mackers, I seriously don't remember.)
Camera sucks. I want a new camera, a good camera that capture all my special moments with all my loved ones. (:
Too much Mackers; that's one of the reasons why he put on a bit of weight before he got enlisted. (:
Our quiet time. (;
But got disturbed by 'invaders'.
Can see that stupid worm? There were two of them; one got burnt to death and the other, got away.
My love still refuse to let them off la.
Thank you darling; within your means or not, always be there for me.
<3
And the night ends off with a simple meal, with the moon and sand.
I forgot if its the same day or some other day that I bugged him for ice-cream after our movie;
he drove to and fro town and I finally decided to go to Changi Airport, Swesons, just for ice-cream.
By the time we got there, I was tired already la. (: Still, I will not give up ice-cream!
He had cookies summit, my all time favourite lor!
And this time I decide to have some Milo Explosion or something. It was fucking sweet please. Cannot take it. (;
Don't you all miss Voile? Give me some time, pictures gonna be up real soon!
This is a must eat please! The hooker-seaweeeeeeeeeed!
Took this shot last night. He was not supposed to come home but his sergeant granted him nights off because he told them the girlfriend is sick. (:
0 Comments

vonkoh|7:24 PM|


+ + + + + + + +